Aunt Ruby's Organic German Green Tomato Seeds
by Ashley Cotter-Cairns
(Container Gardening For You)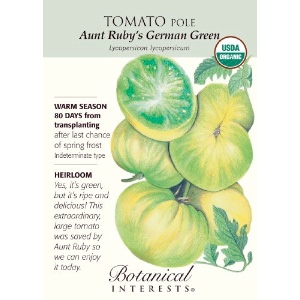 When a recipe calls for a green tomato, it might not immediately refer to the immature fruit of a red tomato plant.

Do not mistake green tomatoes for unripe fruits; they are a special strain of tomatoes that retain their color even if they ripen.

Fried green tomatoes are popular in the US and you too might have been a huge fan of this recipe.

However, nothing beats the authenticity of actual green tomatoes like what you'll get from Aunt Ruby's Heirloom German Green Tomato Seeds.

This variety is supposed to be the sweetest among all the green tomato varieties.

The beefsteak fruits are green in color and take on a light amber blush when they are ready for harvest.

They are bursting with a fragrant, complex flavor of spicy-sweetness with a touch of tang.

This seed packet will grow approximately 24 plants when started indoors.
Read reviews of Aunt Ruby's Organic German Green Tomato Seeds at Amazon
Unique: This outstanding variety is much sought after by tomato lovers; the fruits are not easily available just anywhere

Excellent fruits: The one-pound fruit is definitely a show stopper in both appearance and taste. The flavor is deep and succulent, and considered by many the best among all the green tomato varieties. Now you can make excellent fried green tomatoes like you've never tasted before

Click to order Aunt Ruby's Organic German Green Tomato Seeds from Amazon.com
More About Growing Tomatoes
Read our article on how to grow tomatoes, and rediscover the best-tasting fruit there is!