Gorgeous Flower Ideas For Container Gardening
Ideas For Container Gardening with the name of each flower labeled.
Click photos to open enlargements in a new tab or window. Move between arrangements with the arrows at the end of each description.
Beautiful Designs, All Labeled!
Learn the names of flowers in these stunning container designs.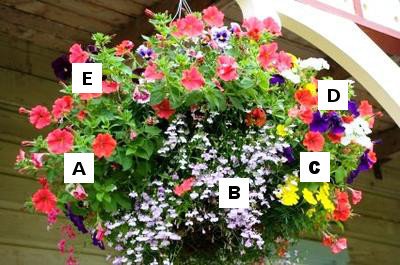 Container Fairy Flower Gardens!
Ultra-cute Fairy Flower Garden ideas. Even boys can get a kick out of their own "monster" garden (you don't have to use the 'F' word!).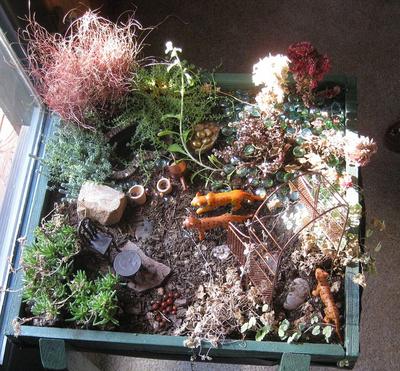 More Container Garden Recipes
Click any of the images below to see a fully labeled description, complete with plant identities, so you can get the same container look for yourself!

All Photos used under a Creative Commons licence with the kind permission of Daryl Mitchell and Flickr. Other individual photographers are also credited on the pages which open up when you click.

Here's why. I've caught myself dreaming up combinations before when I'm trying to find my next set of design ideas.
Container gardening flower choices are UNLIMITED, though! Where to start, what to choose, how's it going to look?
I then inevitably head toward a container gardening magazine and start there. Photos are such great stimulation for the old brain, and gardeners who make it to that magazine can usually put together a pretty good list of ideas for container gardening.
Did you enjoy that? We loved bring it to you.
We took the trouble to label those container gardening pictures, because on most other sites, images aren't labeled with what makes up the design.
I'm left trying to figure out what that peculiar looking plant is in the back, or left wondering... "What is that making up that centerpiece?"
Please do click to share your own container garden design ideas.
I can't wait to read YOUR great ideas for container gardening!
More Creative Ideas for Container Gardening
Recycled Planters: Green Container Gardening Ideas
Pretty much anything can be used as a planter, including old paint cans, toilets, sinks, bathtubs, cars, trucks, even a broken doll's head or an old shopping cart! Prepare to be amazed...
Growing Vegetables, Indoors or Outdoors, in Containers
What's even better than buying organic food? Growing your own in containers! We show you all you need to know to grow potatoes, salad, tomatoes, Brussel sprouts, pumpkins, asparagus, and much MORE.
Plant the Best Organic Heirloom Garden Seeds
Escape the GMO trap, and do your bit for future bio diversity, by insisting on only organic heirloom seeds for planting your container garden. You will be delighted by the taste and appearance of long-forgotten varieties of your favorite fruits, veg and flowers.
Share Your Pictures of Flowers in Containers!
Have a beautiful Container Garden Picture, and a tip or two on how you grew it? Share it with us, we would love to see and read about it!!
See Other Photos, Stories And Tips On Container Gardening
Click on the links below to see some great pictures, stories and tips about Growing in containers. They were all taken and written by other visitors to this page.