Beautiful Pictures of Flowers
Easy-to-Follow Flower Container Garden Recipes
If a picture is worth a thousand words, then pictures of flowers must be worth a million Dollars! Get inspired with our easy-to-follow container garden recipes for breathtaking floral displays.
This page is a valuable and eye-opening tool that will aid you with many garden ideas in planning your container flower garden design. Click any image to open an enlargement. We have identified the flowers in flower picture, to give you container garden recipes to follow.
All Photos By: Daryl Mitchell
Trying to dream up a simple or mammoth size container garden plan can be overwhelming... even for the seasoned gardener.

And some people just need to plain old... "see it"... before they "get it." That's me!
It might even be a great idea to print off the pictures when headed to the nursery to buy your flowers. Some of the photos will have the names of the flowers, while some will not.
Flower gardening in container gardens is truly a joy. So whether it's space issues as the motive...or, if you're like me, the sheer beauty of a well done container always catches your eye...
We hope you find many ideas for container gardening through this eye-pleasing array of flower pictures!
We need your Help!
If you run across pictures of flowers that are not labeled, please use the Comment Link and help us identify the flowers. We thank you in advance.
Below are only a couple of examples, but there are plenty more if you just click on any of the Photo Page links below.
These garden photos are sure to inspire you and make you want to plant, plant, plant!
Gardening Pictures
The container garden picture below is a prime example of less is more. The two primary "bright" colors of this array are only yellow and the purple of the Purple Coneflower.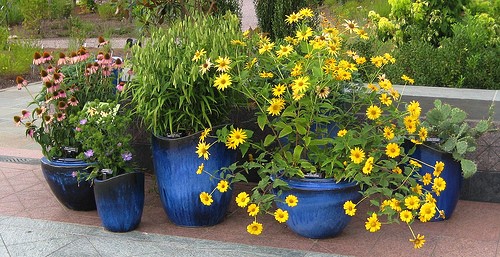 Most would think... "that's not going to be enough." Ah, but rest assured... it is. The striking blue of the garden container would be enough of a contrast to offset the natural beauty of the flowers.

With the picture above, notice how the overall color of the container design is green. However, with the small hints of blues, purples, and reds, the display is brought to life. The bluish tints in the container itself, serve as a great colorful accent!
Never be afraid to use the color of the gardening containers as part of your container garden design.
For many more Inspirational pictures of flowers, sure to enlighten your mind into a blast of creativity, be sure to click on any of the links below.
Share Your Pictures of Flowers in Containers!
Have a beautiful Container Garden Picture, and a tip or two on how you grew it? Share it with us, we would love to see and read about it!!
See Other Photos, Stories And Tips On Container Gardening
Click on the links below to see some great pictures, stories and tips about Growing in containers. They were all taken and written by other visitors to this page.