Garden Pictures
Garden Pictures! Every year it's the same thing. I always find myself thumbing through garden magazines. Looking for the one particular photo that's gonna give me that tiny bit of inspiration that I'm looking for. Something that just says, WOW! I want to do that!!
And funny, even today while driving, I was trying to picture how to design a hanging basket for my back deck. Then I thought, "HELLO!!".......use your own website for a little inspiration!!
Well, hopefully you can do just that. Use these pages as an online magazine of colorful, inspiring garden pictures that will surely entice you to explore different arrangements and container garden combinations.
Sort through the thumbnail photos (click on them to enlarge), find one that strikes you as "THE ONE", then go for it!!
Gardening Tips:
Try to keep companion planting in mind. Sun plants need to be planted with sun plants. Also, any variety in your garden planters need to have the same water needs as their counterparts.
Never forget about incorporating different elements into your garden design. Or just the opposite for that matter…..incorporate your container design into other elements of your home or garden.
For example: Planters look fabulous mixed in and around garden ponds, garden fountains, and even fish ponds. Hanging baskets……well…….hang 'em everywhere!!
Patio Designs. They can also be brought to a higher level with the addition of all types of flowers, hanging baskets, and containers. Also, don't forget about fall flowers. I myself get to autumn and assume that "flower time" is over. But there are numerous varieties that do well through the fall and sometimes will keep their blooms until the first frost.
That leads me to the last point. Which flowers last until the first frost? Our flower guides can give some great examples. You might possibly find an unlabeled flower picture through these pages and not be able to identify it yourself. The plant guides could help there as well, having tons of plant photos and growing tips. Click here to go to our flower guide.
Don't let anything hold you back. Container gardening is a simple, fun, yet elegant way of utilizing small spaces, patios, balconies, or even adding some spice to the traditional garden. Put containers anywhere and watch that space come to life!

Lot's More Photo's Down The Page
Container Garden Pictures
Below is one of my most favorite garden pictures of all. The elegance, yet simplicity of the design is what I love.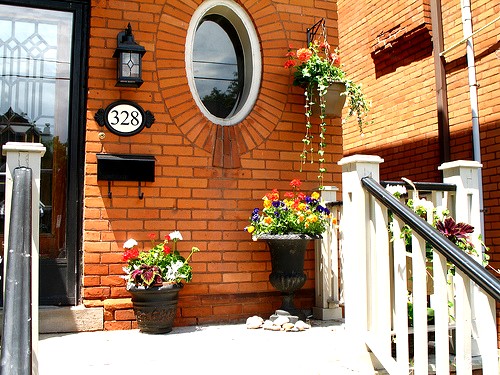 I just love urns. How ornamental! And the over-flowing hanging basket above it makes for a nice flow and pattern. The container to the left is striking with the ever popular Geraniums and Coleus.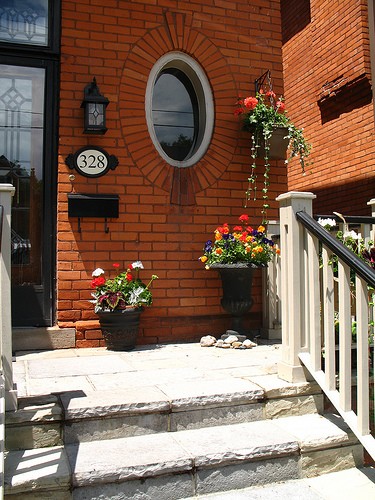 To the right, one more view of these delightful displays.
Often times, many think that more is better. Here's proof that a few splashes of color is all it takes to get the job done!
Everything is so tastefully done, not a hint of "too much" is seen.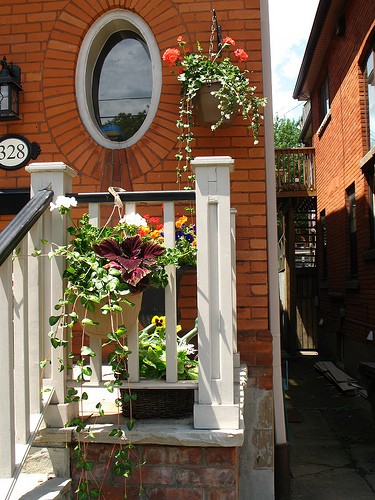 Gazing to our left, you can see that "no stone has went unturned." A nice hanging basket has...hum...well, it's been hung...obviously!!.....over the side of the railing.
There's a nice contrast of color with the basket being over the white slats.
Also, notice the neat little basket container in the corner of the railing. A beautiful is pansy popping up.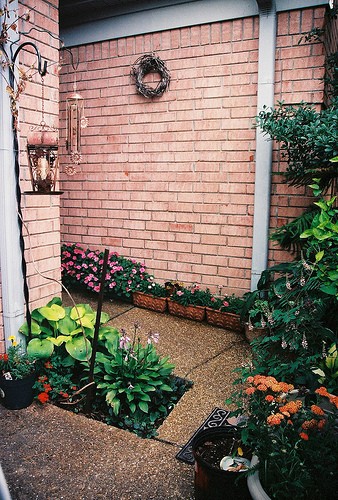 With the picture to the right, what I truly enjoy, is the "unseen" line between garden and container garden. You can hardly tell where the containers start and stop.
A truly magnificent way of utilizing a small entry space to it's fullest. The design of this walkway I feel, is top-notch!
Move your mouse over the photo below to start a slide show of great rustic container garden pictures!!
More Garden Pictures??
Click here for the Photo Gallery Directory Photo Gallery