Pictures Of Gardens To Fuel Your Design
From around the globe, we can find pictures of gardens that will blow our minds. The first thing I think that comes to mind when such beautiful photos are seen, is envy!!! Wow...I want my garden to look like that.
Well, it can!! Maybe not to the elegant extent in some garden magazines we subscribe to, but I bet pretty close.
The only thing stopping us is our imagination...and money, I guess! But that's another subject!!
With that said, good pictures of gardens can sure take the guess work out of a container garden design. Those pictures of gardens can be the fuel that drives the design in our minds, or better yet on paper. 
Because sometimes:
Color is not our thing. Which colors will blend the best with certain flowers and container colors? 
Maybe, it's hard for you to picture what different heights will look like when blended with your favorite choices.
Planning garden beds or container gardens can be a daunting task. So sort through some of our garden photos and take some notes. Even print off the pictures if that will help.
We even chose to include some pictures that will show a traditional flower bed design that includes containers. It's because a growing garden can always have room for a container. And with that sometimes overlooked addition, it's good to see what beauty it can add.
Use our contact us page to send us any pictures of gardens that You take while planning flower bed designs. As long as they include containers, we would love to post them in our Photo Gallery.

Container Garden Pictures
Below is a good example of simple grouping. Any one of the flower pots would look great on it's own. But, simply placing a second one in the mix is a great practice.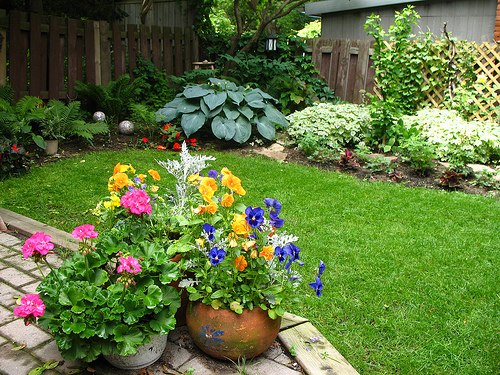 The gorgeous pink Geraniums add so much, but don't let the aged copper-looking pot on the right go unnoticed. Old washtubs, copper containers, and even old boots can be successfully used in your container garden.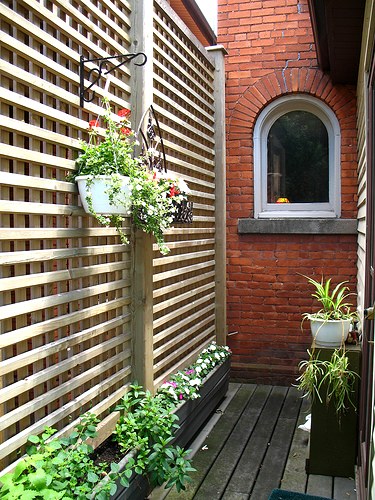 With the picture to the right, I'm truly amazed at such a great use of a small space.
With what seems to be a very narrow entryway or patio, the use of slim boxes and baskets hung from the trellis show that any space can be used in conjunction with a planter garden.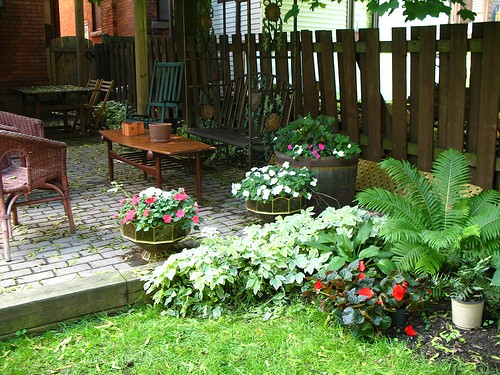 I just love whiskey barrel planters.
These planters can be used anywhere...Literally!! Able to be left outside year around, they make a great choice even when blending with other styles of containers as seen to our left.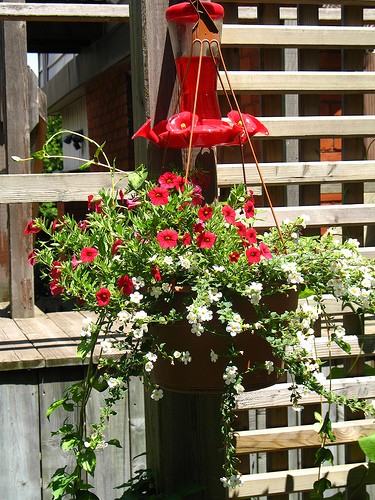 To the right, I think it's just a neat idea to hang a hummingbird feeder next to Petunias...or any hummingbird-loving-flower, for that matter!
Whether it was intentional or not, the red of the Petunias interacting with the red of the hummingbird feeder ranks very high on the list of cool container gardening ideas.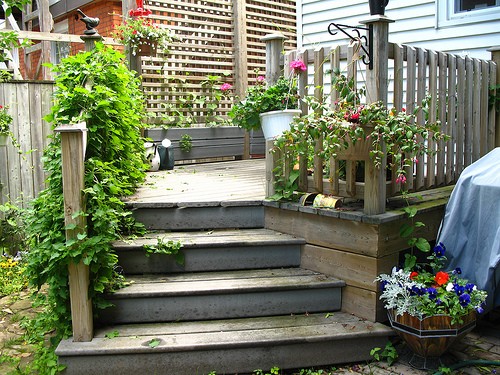 Looking to our left, some more great uses of hanging baskets and deck planters to spice up what would otherwise be a drab looking deck.
Nothing to do with container gardening, but it's a nice use of the ivy to soften up the hard surfaces of the stair railing.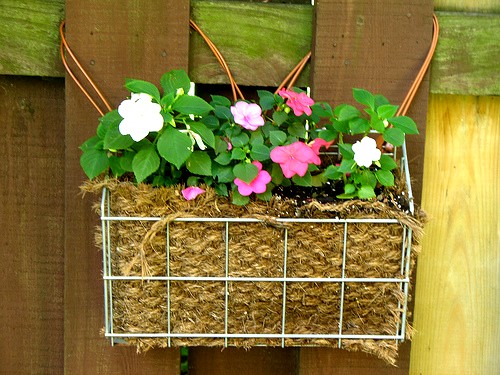 Here's another wonderful one on the container garden ideas list. Recycle, Recycle!! This "Green-Recycled" hanging basket is made from an old wire container and pieces of a grass doormat!!

More Photos??
Click here for the Photo Gallery Directory
Photo Gallery