Container Garden Pictures: A = Fuchsia B = Sweet Potato Vine C, D, E, = Pansies F, G = Coleus H, I = Calibrachoa
by Ashley Cotter-Cairns
(Container Gardening For You)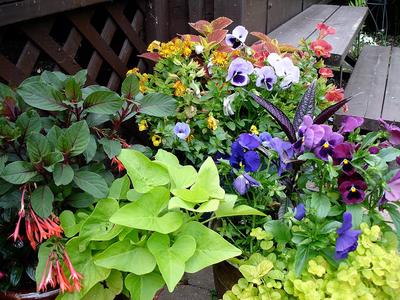 Pictures of flowers: A = Fuchsia B = Sweet Potato Vine C, D, E, = Pansies F, G = Coleus H, I = Calibrachoa
Container Garden Pictures: A = Fuchsia B = Sweet Potato Vine C, D, E, = Pansies F, G = Coleus H, I = Calibrachoa

Image used under a creative commons licence with the kind permission of Daryl Mitchell and Flickr

Fuchsia
's dainty, dangling, blossoms are heat tolerant and can be perennials if you live along the Pacific coast.

It grows to a height of approx. 12 inches tall; making a great centerpiece for a container.

Sweet Potato Vines
add shades of green or even purple to your container. Their vining tendencies take your container outside the 'box' - literally.

Pansies
love cool, spring weather. They will bloom into summer, but only in the full shade and if moist, but not too wet.

Coleus
adds its own element of unique foliage. It grows up and out. Pinching the tops off allows you to control its growth and shape.

Calibrachoa
is easy to grow and easy to care for. It blooms continually; filling your container with dozens of small but brilliant blooms.

Calibrachoa is self-cleaning. No deadheading necessary. They thrive in partial to full sun and don't mind the hot, dry summer climate.

Want more? Use the arrows below to see more lovely container flower pictures, all with identified plants and care advice.
Discover New Container Garden Ideas!
Check out our container garden flower identification gallery. Every flower arrangement is labeled and identified, accompanied by care advice.