Inspiring Container Garden Photos
Garden Photos can be the fuel in our gas tanks. They can power our designs, and inspire our creative sides, more than anyone can imagine.
We've included many different container garden pictures to drive our minds into creativity.
Click any image to see an enlargement, where each plant is labeled, so you can copy the design for your own garden displays! (Links open in a new window/tab on our site.) Or send us your own photos!
More Lovely Container Garden Photos
While our focus was on container garden displays, we've also included several traditional garden photos where planters are included.
These pictures are included because many of us forget the value of adding containers to our landscape design. When nothing else will suffice, planters can fill in gaps and spaces where color or design is needed.
So always think about including them when and wherever you can. Balconies, patios, poolsides, along with porches and sidewalks are all superb places you can add containers.
Try incorporating aquatic plants in and around your garden fountains and water features.
If your looking for more photos, be sure to click on the link toward the bottom of this page. It's labeled, "Photo Gallery." We hope you find what you're looking for.
Good Luck and Enjoy!
Container Garden Pictures
Color combinations from various flowers are wonderful, but oftentimes one can make a great statement... as this display has done. Click for full description and care advice.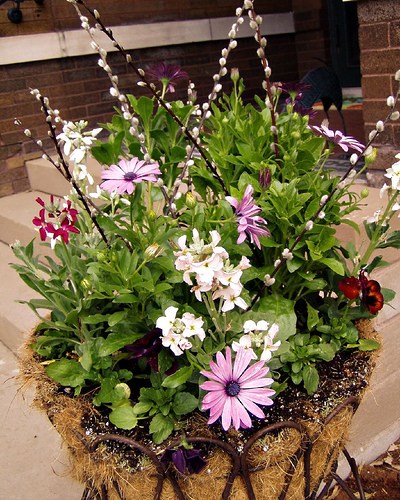 With the picture to the right, what I find so appealing about this container combination, is the choice of "soft" colors.
The light pink and white blooms really pop out against the background of green foliage. Click for full recipe and care ideas.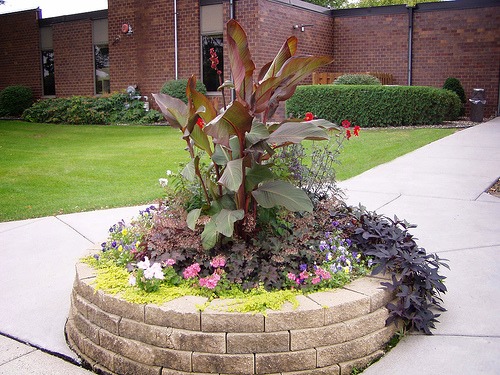 I'm a HUGE Canna fan. Don't be afraid to use Cannas in containers. They are terrific. This is a nice show of the thriller, filler, and spiller method.
The Canna makes a gorgeous thriller. I love the purple accent from the Potato Vine as it "spills" over the side. Click for full recipe!
The biggest thing I want us to see here, is that Containers can add a tremendous amount of value to the traditional garden space.
You almost don't notice the pots, but look and you'll see them. They would provide such a vast array of diversity in any garden. Great fillers in any space!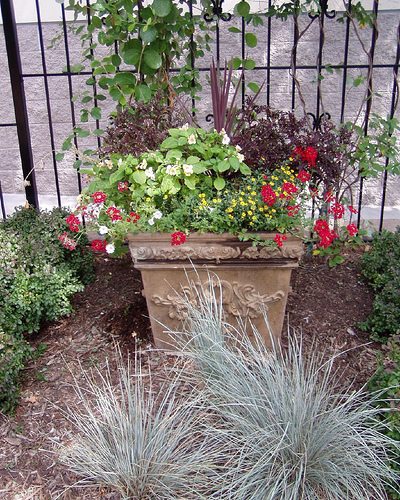 Not to sound like a "broken record", but with the picture to the right, what I find eye-catching, is the transition between garden and container garden.
The container blends so naturally with its surroundings, that it all seems as one... even though there are two distinct forms of gardening.
The color of the planter is what makes it happen! Click the garden photo or this link for full recipe and care ideas.
Want to See More Garden Pictures?
Share Your Container Garden Pictures!
Have a beautiful Container Garden Picture and a tip or two on how you grew it? Share it with us, we would love to see and read about it!