Container Garden Pictures: A = Gaillardias B = Asparagus Fern C = Drachaena
by Ashley Cotter-Cairns
(Container Gardening For You)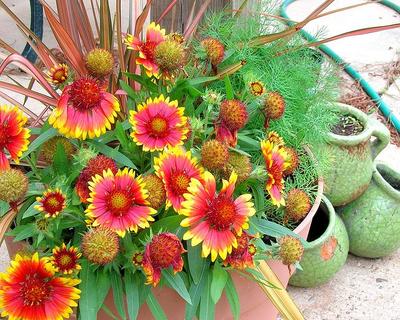 Pictures of flowers: A = Gaillardias B = Asparagus Fern C = Drachaena
Container Garden Pictures: A = Gaillardias B = Asparagus Fern C = Drachaena

Image used under a creative commons licence with the kind permission of JaneDoughnut and Flickr

Gaillardias, more specifically, the Arizona Gaillardias
, are hardy, daisy-like flowers.

Their golden-orange colors are testimony of their love of heat and sunshine.

The Arizona Gaillardias are virtually care-free; growing as wide as they do tall. Their average height and width averages 10-12 inches.

They bloom prolifically throughout the summer; bearing large 3-4 inch flowers.

Asparagus Ferns
are perennial ferns that are airy and wispy. Asparagus ferns like humidity and moisture just like other ferns, but their roots don't mind being crowded.

This makes them a perfect form of greenery for a mixed container garden. Watch out, though... asparagus ferns have fine, sharp needles throughout their fronds. Ouch!

Dracaena
, which are also called spikes, make a definite statement in any container garden. They take up little room, grow quickly and require little to no care.

Dracaena come in many different varieties. Many will survive the winter if watered and kept from freezing.

Want more? Use the arrows below to see more lovely container flower pictures, all with identified plants and care advice.
Discover New Container Flower Ideas!
Check out our pictures of flowers in containers. Every arrangement is labeled and identified, accompanied by care advice.