Container Garden Pictures: A = Passion Flower B = Purple Fountain Grass
by Ashley Cotter-Cairns
(Container Gardening For You)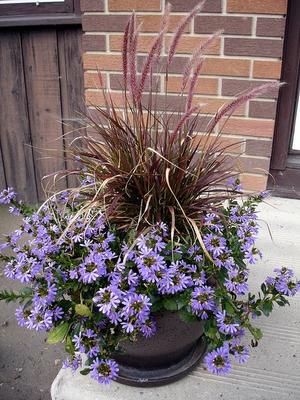 Pictures of flowers: A = Passion Flower B = Purple Fountain Grass
Container Garden Pictures: A = Passion Flower B = Purple Fountain Grass

Image used under a creative commons licence with the kind permission of Daryl Mitchell and Flickr

Passion Flowers
are among the most beautiful flowers on earth.

Their delicate petals surround a center that resembles a bunch of little baskets.

They look like something out of a fairytale.

Passion vines and can be trained to climb trellises or left to go their own way. The fact that they are a larger vine, combined with the fact that they bloom profusely throughout the summer, dictates that they be put in a large pot.

Passion flowers are perennials - they will come back each year, but may need to have dead leaves and 'stems' pruned for better growth.

Purple Fountain Grass
is just one of many ornamental grasses that can be used in container gardening. It is an excellent centerpiece; adding height to the passion flower without taking away from its beauty.

Both plants do prefer moist soil that drains well and will do fine in sun or shade.

Want more? Use the arrows below to see more lovely container flower pictures, all with identified plants and care advice.
Discover New Container Flower Ideas!
Check out our gallery of flower pictures. Every arrangement is labeled and identified, accompanied by care advice.
Join in and write your own page! It's easy to do. How? Simply click here to return to Container Garden Pictures.