Container Garden Pictures: A = Petunias B = Geraniums C = Purple Fountain Grass D = Shooting Star
by Ashley Cotter-Cairns
(Container Gardening For You)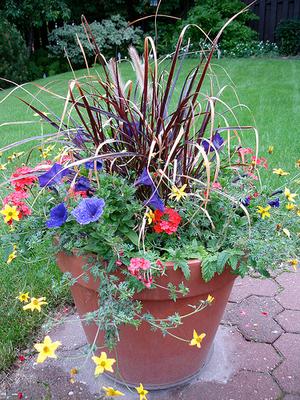 Pictures of flowers: A = Petunias B = Geraniums C = Purple Fountain Grass D = Shooting Star
Container Garden Pictures: A = Petunias B = Geraniums C = Purple Fountain Grass D = Shooting Star

Image used under a creative commons licence with the kind permission of Daryl Mitchell and Flickr

Petunias
are favorites of every gardener.

They come in a variety of colors, thrive in both sun and shade and bloom continually through late fall.

The petunia will be the color focal point of this container, so make a statement.

Geraniums
prefer soil that is on the dry side. The fullness of their flower heads gives texture to this arrangement. Be sure to deadhead for continual blooming, though.

Purple Fountain Grass
gives height and contrast. You'll have to transplant at season's end, however, as it can grow to 30 inches tall. You can trim the tops if it grows too quickly.

Shooting Star flowers
are low-growing and act as a 'ground cover' for your container garden. They are drought and heat tolerant and thrive in full sun in loamy soil.

The blooms of this member of the daisy family are fragrant and will bloom continually for the full growing season.

Want more? Use the arrows below to see more lovely container flower pictures, all with identified plants and care advice.
Discover New Container Garden Ideas!
Check out our pictures of types of flowers in containers. Every flower arrangement is labeled and identified, accompanied by care advice.
Join in and write your own page! It's easy to do. How? Simply click here to return to Container Garden Pictures.