Container Garden Pictures: Agadanthus
by Ashley Cotter-Cairns
(Container Gardening For You)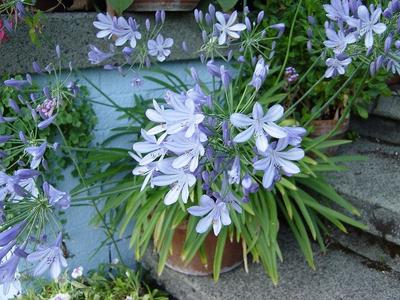 Pictures of flowers: A = Agadanthus
Container Garden Pictures: A = Agadanthus

Image used under a creative commons licence with the kind permission of edgeplot and Flickr

Agapanthus
is a rhizome and part of the lily family.

When used in a container, make sure you separate them every two to three years to keep them from becoming root bound.

You should only plant one rhizome in a 12-inch pot, as planting any more than this will result in poor growth and reduced blooming capabilities.

Another name for the agapanthus is African lily
. Their blue-purple color is a favorite of all gardeners and mixes well with brighter purples, yellows and whites.

The blooms of the agadanthus tower above the green foliage; foliage that resembles that of daffodils and lilies.

Agapanthus need loamy soil that consists partially of decayed leaves or dry manure. As for the light they need, they do well in partial sun/shade.

The agapanthus should be stored indoors during the winter if temperatures fall below 20F. Otherwise, mulch them well to winter outside.

Want more? Use the arrows below to see more lovely container flower pictures, all with identified plants and care advice.
Discover New Container Flower Ideas!
Check out our container garden recipes. Every flower arrangement is labeled and identified, accompanied by care advice.
Join in and write your own page! It's easy to do. How? Simply click here to return to Container Garden Pictures.