How to Grow Ginger Root in Containers
Want to know how to grow ginger root in containers? Growing ginger root is a relatively easy process, as long as you follow a few basic rules.
Ginger has been grown for thousands of years, and is hailed as not only a unique spice, but also a cure for several ailments.
The uses for ginger are nearly endless – medicinal, candy, beer, tea, and deserts are just a few of its uses.
Why would you want to include freshly-grown ginger in your diet? Sure, ginger tastes great in tea and as a side with sushi, but did you know that ginger is one of the most widely-studied foods?


Health Benefits of Ginger Root
Several scientific papers have touted the health benefits of ginger, including its ability to ease an upset stomach, reduce cholesterol, reduce morning sickness associated with pregnancy, and lessen the pain of arthritis and fatigued muscles.
Ginger tea is a great way to consume the root. Boil sliced ginger root in a shallow frying pan: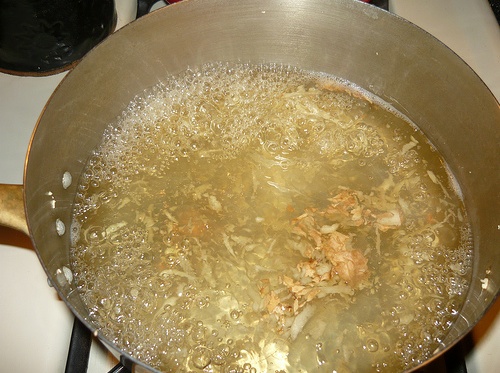 Photo used under a Creative Commons licence with the kind permission of indigonightowl and Flickr
Some studies have shown ginger to have potential anticancer properties; other studies have shown that ginger can reduce the size of tumors.
These studies showed that effects of colon cancer, ovarian cancer, and liver cancer could all be potentially lessened by the power of ginger.
One thing should be noted before going on a ginger regimen – if you are taking Warfarin, an anti-coagulant or "blood thinner", then ingesting ginger as well can potentially cause prolonged bleeding and easy bruising.
Growing Ginger Root: the Basics
So, are you convinced that you need to learn how to grow ginger? Are you anxious to harvest your own ginger root to see if the health benefits are real? Then let's get started!
For outdoor growth, ginger requires a few conditions:
Ensure all risk of frost has passed. Ginger cannot handle frost very well at all.
Ginger plants need moist, nutrient rich soil. Ensure you keep the soil around your ginger plant well watered, but no standing water.
Ginger plants grow well in shade with "filtered" sunlight.
Keep in mind - ginger does best in warm, humid weather. After all, it's a tropical plant.
For optimal harvesting, try to grow your ginger plant for at least six months. This may be difficult for those that are in zones lower than 7.
Growing ginger from seed is nearly unheard of. Most gardeners just use ginger root from a grocery store.
Get started by selecting some ginger root from your local grocery store or farmer's market. Look for a healthy one with growth buds – tiny greenish/white horns protruding from the ginger root.
Photo used under a Creative Commons licence with the kind permission of blumenbiene and Flickr
These buds are where the ginger plants' foliage will grow from. If you don't want to eat the ginger, then you can simply grow it for the lovely foliage. It becomes a tall, almost palm-like plant: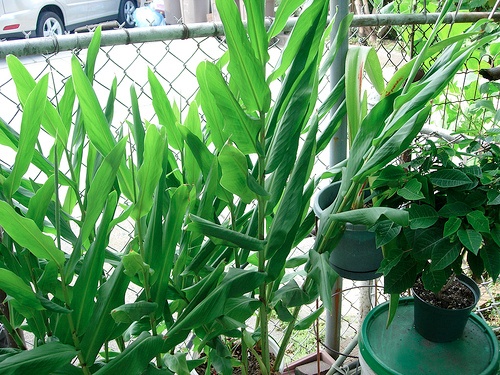 Photo used under a Creative Commons licence with the kind permission of avlxyz and Flickr
Wash off your ginger root to remove any chemicals that may be present. You can cut or breakup the ginger root if you want multiple plants, just ensure there are growth buds on each piece. (Organic ginger root is probably a wise investment from the outset.)
Dig a hole about one inch deep and place the root in the ground, with the buds pointed up towards the surface.
Photo used under a Creative Commons licence with the kind permission of Stinky Steve and Flickr
The ginger plant grows slowly and will eventually reach a height of 2-4ft. Remember - it's important to keep the soil moist at all times. You can always grow it for the lovely flowers: see above.
How to Grow Ginger Plants in a Pot
For most of us, due to the climate we live in, we need to know how to grow ginger in a pot.
Because ginger is considered a tropical plant, growing ginger root outside in zones under 7 may be a waste of time, which is why growing in a pot is the best alternative.
The benefit of growing ginger in a pot is that you can bring it inside when the weather starts to get cooler. This ensures that your ginger plant will continue to grow, and you'll have access to fresh, mature ginger root.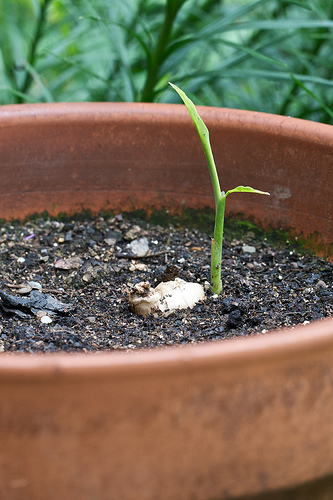 Photo used under a Creative Commons licence with the kind permission of Chiot's Run and Flickr
To begin, start with a medium-sized pot, at least 12 inches in diameter and 12 inches deep. This will be able to hold a few ginger roots.
The requirements are still the same as growing ginger outside – you'll still need nutrient rich soil, stable temperatures above 70 degrees Farenheit (around 20 degrees Centigrade), and shady, not direct lighting.
Keep the soil moist and use a fertilizer once a month. If conditions are right outside, the pot can be placed on your porch, but avoid long exposure to direct sunlight.
Harvesting Ginger Root
After a few months, your ginger root will be ready for harvest. You'll know when new roots have grown when green shots poke through the soil.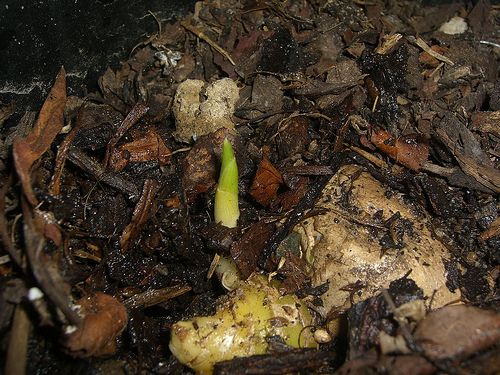 Photo used under a Creative Commons licence with the kind permission of avlxyz and Flickr
The easiest way is to just push back the soil, and cut pieces from the new roots that are growing. This will give you the freshest ginger possible.
However, new ginger root doesn't have as strong of a flavor or smell as mature ginger roots.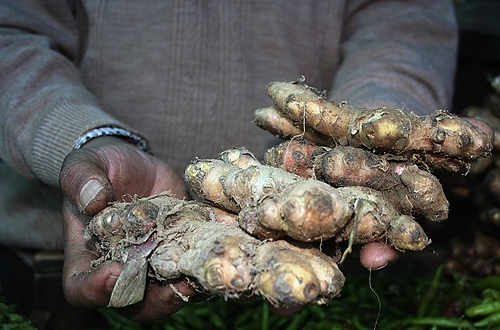 Photo used under a Creative Commons licence with the kind permission of vilb and Flickr
To get to the mature ginger root, wait until the leaves begin to turn yellowish and fall off, usually after 8-10 months of growing. At this point, you can remove the whole plant and cut off how much root you want.
If you want to start a new plant, look for sections with good growth buds and restart the whole process over!
Share Tips on How to Grow Ginger Root in Containers
Do you have any tips on how to grow plant, grow and harvest ginger in containers? Please share them by clicking here. Other visitors will thank you.