Dictionary of Flowers: Phlox Drummondii
(Annual Phlox)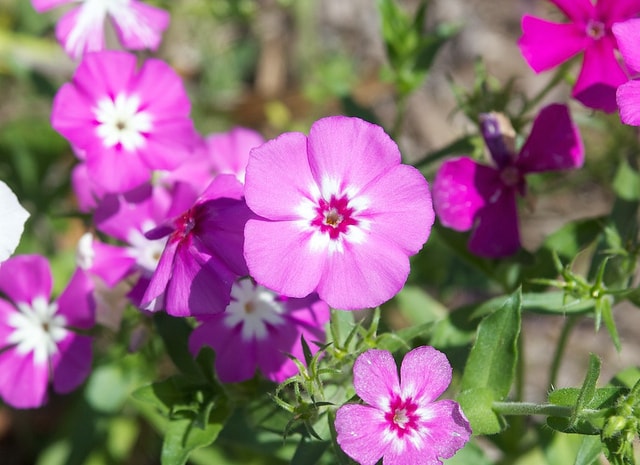 (Annual) Phlox Drummondii. Image used under a Creative Commons licence with the kind permission of Malcolm Manners and Flickr
Phlox Drummondii
Common name: annual phlox
Family:  Polemoniaceae
Category: annual
Height: 6" to 18" 
Width: 10"
Sun
Blooms: summer to fall
Attracts: bees, butterflies
Growth habit: mounding. Used as filler in container combinations
Maintenance: easy
Soil: fertile, evenly moist, well drained. Water regularly if grown in containers
Garden uses: containers, hanging baskets, mixed border, bedding plant
Diseases: mildew if stressed
Pests: pest free
Annual phlox is a native of Texas. A fast growing annual, it blooms quickly when grown from seed.
The leaves are narrow, sticky and hairy and the trumpet shaped small flowers can range in color from white to pink and red to purple.
They are slightly scented and grow in clusters on the plant's stem ends. Some cultivars have double flowers.
Their name refers to Thomas Drummond (1790-1835) who collected seeds in Texas and sent them to England where it was cultivated as a garden plant from them. 
Hybrids are now available with better heat tolerance.
Annual phlox does better in cooler climates. It can be grown as a summer annual where summers are cool or a fall/winter annual in warmer zones.
Plants tend to decline as summer progresses. They need to be cut back or replaced. If cut back, they might recover in early fall as the temperatures drop again.
Plant annual phlox in fertile soil or good potting mix. It does better when kept evenly moist, though it can tolerate dryer soils if grown in part shade. Deadehead to prolong bloom and pinch stems back to keep the plant bushy.
Trim a third of the plant in midsummer if blooming or foliage starts to decline and continue watering. It needs to be fed with bloom boosting formula when grown in containers every other week.
If grown in the garden, apply a balanced granular slow release fertilizer when first planting the seedlings or plants.

IWILLWRITECAPTION. Image used under a Creative Commons licence with the kind permission of NAMEOFFLICKRUSER and Flickr

Annual phlox is available in nurseries during spring and early summer. To grow from seed, either plant seeds directly on compost enriched soil that has been raked.
Plant after all danger of frost has passed. Cover seed and water well. If starting seeds indoors, six weeks before last expected frost date, sprinkle seed on moist starting medium.
Cover containers, seed needs to be kept in total darkness to germinate. When kept around 60F, seed should germinate in two weeks. Move to a spot that receives good light.
Transplant when they are about three inches and pinch several times to keep them short and bushy. Plant outside after hardening off once all danger of frost has passed. 

IWILLWRITECAPTION. Image used under a Creative Commons licence with the kind permission of NAMEOFFLICKRUSER and Flickr

Phlox can develop mildew if grown in soil that is not kept moist. Water deeply and evenly to avoid problems.
It isn't normally bothered by pests, but spider mites can attack plant. Treat with insecticidal soap if needed.
Popular varieties:
Phlox drummondii hybrid 'Twenty First Century Mix' - more resistance to heat than p. drummondi. Blooms in ten weeks when grown from seed
Phlox drummondii hybrid 'Summer Majesty' - bushy habit, up to ten inches tall. Blooms can be white, pink, burgundy or purple
Phlox drummondii hybrid 'Promise' series - soft colored flowers, trailing habit, good as a groundcover. Flowers can be pink, white or peach
Phlox drummondii 'Petticoat Mix' - single colored and bi-colored flowers. Good for containers or front of border. Performs well in the heat
Phlox hybrid 'Intensia' series - not available from seed. Long bloom period, bright colored flowers. Six to twelve inches tall
Phlox hybrid 'Astoria' series - good variety for containers. Up to twenty four inches long. Self cleaning variety, doesn't need to be deadheaded. Blooms pink, white, blue and peach
IWILLWRITECAPTION. Image used under a Creative Commons licence with the kind permission of NAMEOFFLICKRUSER and Flickr

Full List of Dictionary of Flowers Entries

Go from Phlox Drummondii (Annual Phlox) to the Dictionary of Flowers